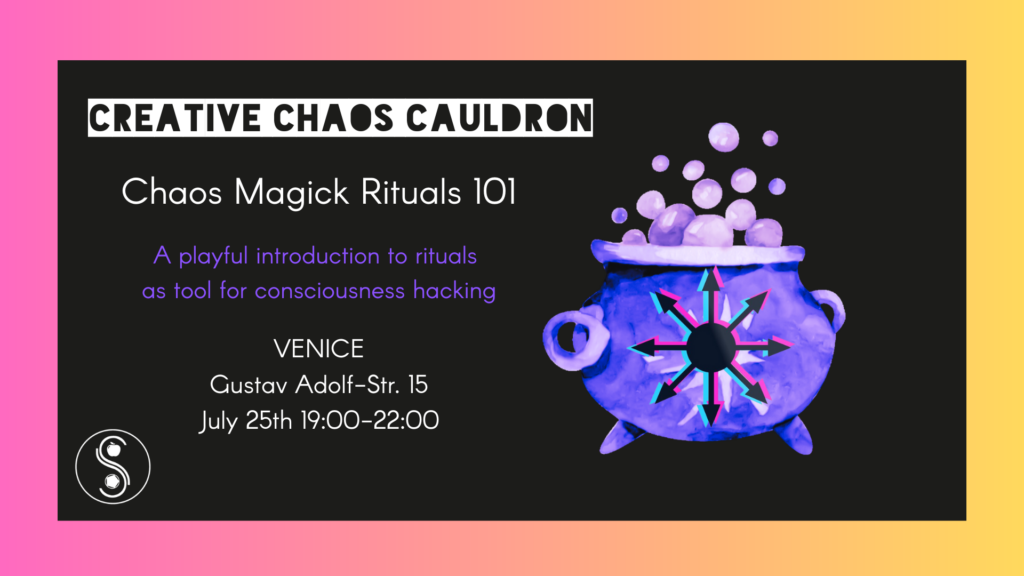 2023-07-25
@
19:00
–
22:00
CEST
This workshop is an invitation for creative play with rituals chaos magick style.
You can experience it as a pop up chaos magick temple.
It is an invitation to dive into the unknown.
Nobody knows, what will come out of the cauldron.
Not even me.
-><-
We play freestyle.
No need for a Grimoir.
No need for old texts and formulas.
No need for a high priest.
-><-
You are the pope.
You too. Me too.
We are all popes.
And together we shall engage in creative ritual play.
-><-
We will explore the spontaneous spark of creativity in the group flow and craft our own playful rituals.
You shall receive a short introduction to a basic approach to Chaos Magick Rituals in the framing of Rituals as a tool for consciousness exploration and hacking.
We will then workshop a few fitting group intent spells, create rituals to cast them and then perform them together.
CHAOS MAGICK

To me, this is a non-dogmatic meta-paradigm of consciousness exploration and expansion, a form of psychonautics.
The creative and unconventional practice aims at accelerating spiritual evolution and personal development by deconditioning and hacking your nervous system using your will, intention, energy, and imagination as well as rituals and symbols as tools to alter your experience of reality and increase your possibilities.
Some principles shared by most chaos magicians include shifting paradigms and using belief as a tool, accessing altered states with different techniques to anchor information in your subconscious, and an emphasis on direct experience, making you your own spiritual authority.
Do not believe what is written, experiment for yourself!
Who is this for?
Courageous Curios Cats
Psychonauts willing to explore without substances
Chaos-loving humans wishing to dip their toes in magick
Witches, Wizards and Magickians who want to play in groups
Ritualists curious to expand upon their ritual paradigms.
ABOUT THE FACILITATOR

Mariana Pinzón is a transformational coach and Chaos Magickian with a peculiar approach to spirituality. Her mission is to help unconventional humans embrace states of chaos and confusion as opportunities for personal (R)evolution. She takes her clients on deep-dive journeys of self-discovery to empower them to craft their own paths.

She believes in the power of Chaos as a catalyst for evolution and that each crisis allows for a window of opportunity to reprogram our system into a new level of functioning.

She has a background in comparative religion, philosophy, and political science, as well as certified training in transformational coaching with Animas Center for Coaching. She is equipped with a range of tools and techniques that allow her to help her clients identify their own solutions. With her flexible epistemology and ability to engage in paradigm-shifting and crafting beliefs, she can facilitate rapid change.

She combines traditional coaching tools and methods with the playful use of sigils and rituals to anchor the desired change deep within the clients' system. She loves to serve Cacao and work with the Inner Child or engage in shadow exploration
2023-07-25
@
19:00
–
22:00
CEST
2023-07-25
@
19:00
–
22:00
CEST