Uninvaded time is what people need first in order to think for themselves. They need a turn of their own. They need permission to keep going, attention of the highest order, understanding and encouragement to be as intelligent as they truly are.

Nancy Kline
My coaching style
The basis of my coaching style relies on socratic questioning and active listening. You will get a looooot of questions lead by my curiosity and intuition and also reflections of what you are sharing with me. To open the space for you to dive deeper into your own thinking I offer my full presence and silence. With my big warm heart I hold space for you to explore your emotions.
Guided by my intuition and the map I am working with, I bring in models and tools from my training to help you dissolve limiting belief structures, unpack your Belief System (BS) and shift your paradigms of thinking, change your perspective, play with new reality tunnels, calibrate your values compass, recreate your narrative, regulate your nervous system, map your steps towards a goal or manage your possibilities and dissect options to make decisions.
To engage your whole system and not just your mind, every now and then I will bring in playful tools from possibility management. To anchor your will for change deeper into your system bypassing your conscious mind, I sometimes will create a sigil or a chaos magick ritual for you.
Depending on what you need from me I will embody different archetypes into the space. Sooner or later you might make an encounter with the trickster in me. No need to worry though…you can find Illumination through confusion.
How can I serve you?
I cannot change you. You have to do the work yourself.
I offer you companionship, a space of reflection and inquiry and my presence as a catalyst for change. I will weave my magick with you.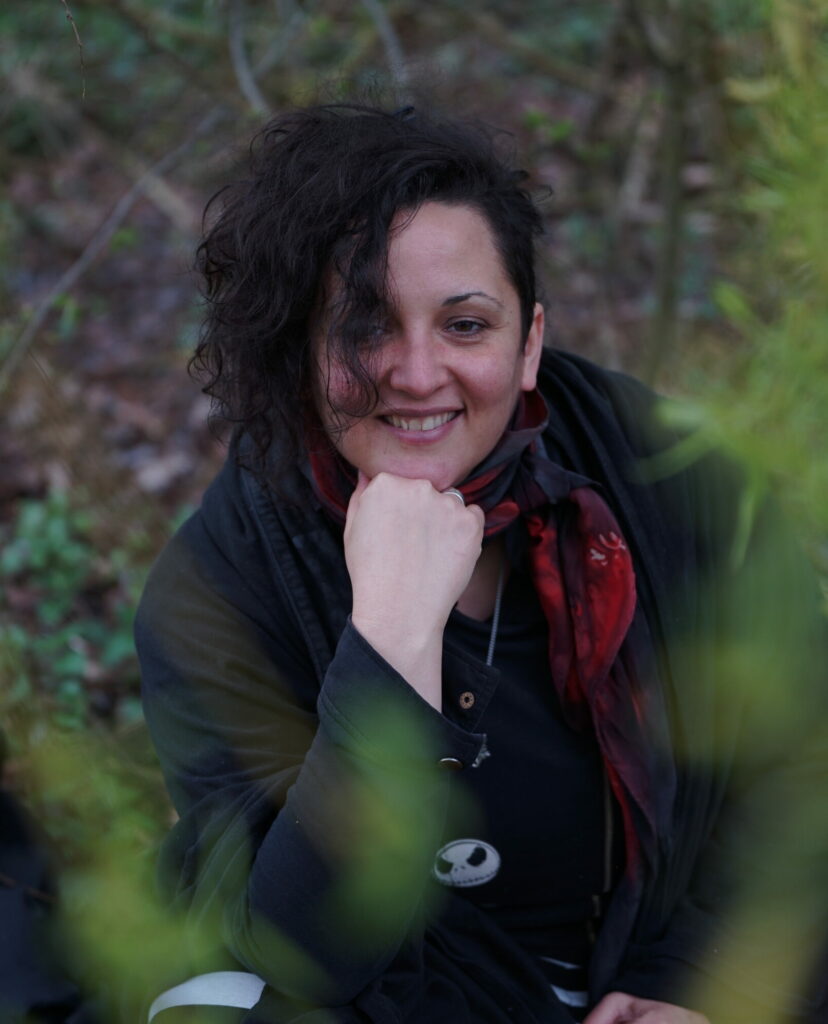 This is how you work with me!
I offer different ways in which we can work together to get you surfing your waves of Chaos.
You can book single ChaoSurfing Sessions as you need them, to work with me through whatever process of transformation you are going through or you want to unleash.
Or if you want to take a more structured journey of self discovery I can be your companion on your Hermits Journey or throughout the Balanced Psychonautics Quest.
We can work together in presence in/near Berlin or online.
I offer coaching in english, german and spanish.
ChaoSurfing Sessions
In this sessions I offer my own style of transformational coaching based on my Animas training and enhanced playfully by tools from chaos magick and possibility management.
You can bring any topic you want to explore or any challenge you face to the sessions. You are the captain and you set the goal for the session – I serve you in getting you where you want to go. This can be about navigating life challenges or it can get as explorative and existential as you want it to be. We can dig into any level of your system you might want to explore.
Contribution for a 90 minutes session (incl. VAT/MwSt)
Monk: 125 Euro
Master: 155 Euro
Magickian: 230 Euro
Hermits Journey
If you feel the call of your own abyss and ready to dive into your shadows, this packaged journey might be for you.
The Hermit in the Tarot takes up the journey into the land of his own darkness to integrate his shadows and parts in an alchemical process to find his own light and come back with his own medicine.
We will work together for 8-12 weeks in a total of five sessions to dive deep into the underworld of shadows, self-sabottaging patterns, limiting beliefs and unmet needs of the inner child.
As a creature as much fond of love and light as of pain and darkness, this space I will hold with deep compassion for whatever darkness you face and without judgement of whatever process you find yourself working through.
This alchemical journey offers a mix of coaching and healing. I am not a therapist and I cannot heal you. Healing of emotional/psychological wounds comes from self healing and this can be supported by being compassionately held and witnessed in the pain, the shame and the shadow.
The space I create for this sessions comes from the deep core of my cacao mama heart and my courage to stand at the edge of the abyss holding a light and it welcomes your grief, your pain, your sadness, your shame and all other emotions. I will be the rock in the storm or the darkness to cuddle into. Whatever you need to go down this path of illumination.
If we can do sessions in presence in Berlin, this journey can be enhanced by working with cacao medicine in each session. We will dedicate the 3rd session for a deep dive in a 3 hours chaos magickal ritual as a cacao ceremony to access and install a bridge of communication with the part of self usually called "the Inner Child".


This work can be done online but without the Ritual. You can enhance it if you have access to ceremonial cacao to prepare for yourself. In this case I offer you 6 online sessions a 90 min.
Contribution for 4 sessions a 90 min and one session a 180-240 min (incl. MwSt/VAT)
Monk: 777 Euro
Master: 999 Euro
Magickian: 1.555 Euro
Balanced Psychonautics Quest
This individual quest might work for you if you are looking for a more structured approach of deep self inquiry and you wanna figure out where you need to go deeper to regain balance in your system or expand consciousness without frying your nervous system.
This comes as a mix of coaching and mentoring and requires commitment of 2-5 hours a week to do the tasks and challenges. I will share my insights on this model and the tools I have picked along the way. The more you put it, the more results you are going to get.
We will begin with one deep dive session of about 120 minutes to do a system check to see where you are at using the 8 Circuit Model to map your experience.
You will then receive 8 Workbooks containing some info on each circuit as well as a proposal for self-reflection exercises, challenges, experiments, meditations and rituals I have put together from the material of Robert Anton Wilson, Antero Alli, Possibility Management and some of my own devising. With this you can make embodied direct experience to be mapped by yourself into the 8 Circuit Brain Model.
You will receive 8 x 1:1 90 min coaching sessions where you can examine deeper whatever is coming up with your experimenting.
You will have access to me via Telegram for questions, feedback or impulses and can also book once a week a 15 minute check in call if you need more feedback of clarification.
At the end of the 12 weeks we will do a 120 minute systemcheck for check out to asses what has shifted for you during this quest and where on your system you can focus on to go deeper into self work.
Contribution for a 12 Week program including 2x 120 min sessions, 8x 90 min sessions, 12x 15 min check in calls, access via telegram and 8 Workbooks for your questing. (Including 19% Mwst/VAT)
This Quest can be taken as a group Journey once a year in fall.
Monk: 1.555 Euro
Master: 2.300 Euro
Magickian: 3.333 Euro
Pricing
I would love to let you decide how much this service is worth to you in relation to your income on a sliding scale. I have been experimenting with "Wertschätzungsbeiträgen" and I love this kind of exchange. Since I want my book keeping to be simpler I am offering three rates at which you can book my services. You get to decide which one suits your financial situation.
All prices include 19% MwSt/VAT as tribute to the german financial burocracy.
Monk: "Navigating tight money flow" you pay 125 Euro per 90 min session. Packaged prices vary.
Master: "I am on top of my financial flow" you pay 155 Euro per 90 min session. Packaged prices vary.
Magickian. "I create abundant money flow and can support" you pay 230 Euro per 90 min session. Packaged prices vary.
(With this pricing you will be supporting others and also supporting me to increase the means for me to invest in building a regenerative inner and outer permaculture community retreat somewhere near Berlin.
If you cannot afford this pricing at all and feel the strong call to work with me, we can talk about barter deals or service exchange or find the right money exchange.
I accept payment as banking transfer, paypal or SEEDS.
Testimonials
Mariana's depth of knowledge takes my breath away; she has such a beautiful heart while being profoundly strong. She is patient and heartfelt and she cares deeply for others. She brings tears to my eyes as she is such a special human being and I feel incredibly honoured to know her. Her power and life experiences are her greatest gifts; she is deeply grounded and she is able to touch others' lives in a meaningful and thoughtful way.
Kana Knox, CEO of Unfurlingheart
I wasn't sure what exactly to expect from going into the transformational journey with Mariana at first, all I knew was that I had a need for transformation and felt I could trust her from previous encounters.
Thanks to her guidance and ability to ask the right questions she allowed me to shine light on aspects of myself I had been hiding even from myself in my shadows. She created a safe space to go deeper, so I felt encouraged to open up about vulnerable topics that have kept me stuck in a spiral of negative thinking.
She has a creative way of dissecting parts of myself. With her creative, playful magical practise I realised, step by step, where my potential for positive growth lies.
Each session is full of self discoveries and new insights to explore, which she is able to stir up in the magic cauldron of the subconsciousness with her patient energy and powerful clarity.
I feel empowered in my creativity, curiosity and self awareness in the ways I speak to myself thanks to Mariana´s guidance on this transformational journey.
Suzanne W.
I had the lucky opportunity to meet Mariana during a 6 session coaching period. Initially I was not sure how much personal work could be done in what seemed to be a short lapse of time. The results exceeded my expectations immensely. Mariana´s capacity to engage in active listening and her outstanding ease to mirror what she listens to in a deeply reflective way allowed me to find much clarity in life problems that I have been facing and working on for years.
During her sessions she uses a different range of tools to engage in a joint exploration of the self, including meditation, cacao, dance, visualization and other kinds of different rituals. I felt since the first moment that she cared, that she was listening to me and never that she was judging me or telling me what to do. It was never an instruction, always a guided process of self reflection. It was incredible to notice how the answers were coming from myself under her guidance and loving company. I found with her a safe space to share my innermost pains and shames, the shadows of my childhood. Together we visited them and brought them into new lights towards a new relationship to them.
Today I can say that her tools and the work we did together had a very positive impact in my life. It was so relieving to be able to cry and honestly and openly talk about my inner world with someone with so much capacity and integrity like Mariana. I'm extremely grateful to her for her beautiful work and the incredible impact it has had in me. I feel much more sure about myself, about my path and life´s decision. I was able to contact my inner child and bring love to his fears and needs, therefore changing completely the impact these were having on my daily life. I found much space within myself to honestly explore my needs and desires and act in consequence to them. I feel freer than I did and I feel powerful, ready to engage with the next steps of my life´s path towards achieving my dreams and goals.
Arturo R.