As Agent of Change from the Cosmic Costumer Care Department I serve by…
…lovingly assisting chaotic edge-dwellers and neurodivergent folx to balance out order and disorder within themselves, embrace their unique spark of Chaos, increase response-ability to surf the waves and find playfulness in crafting their own path.
…supporting solar-punks and rebels holding visions for a regenerative civilization who struggle to manifest their dreams into reality to play with creative order and disorder, ground themselves and embody the change they want to seed in the world.
…offering space for explorers of consciousness and psychonauts to integrate challenging or life altering experiences of altered states by taking them to go on a quest of self-discovery to find new systemic balance create new meaning, tap into their magick and keep rocking their world.
I offer my service to those who want to act as game-changers towards a regenerative renaissance building bridges at the edges of the decaying system to birth a new civilization in a solar punk future.
And to all who while moving through a personal crisis, wish to harness the power of Chaos to reinvent themselves, level up and, tap into their magick and craft new authentic paths.


Know Thyself.
Reclaim your existence!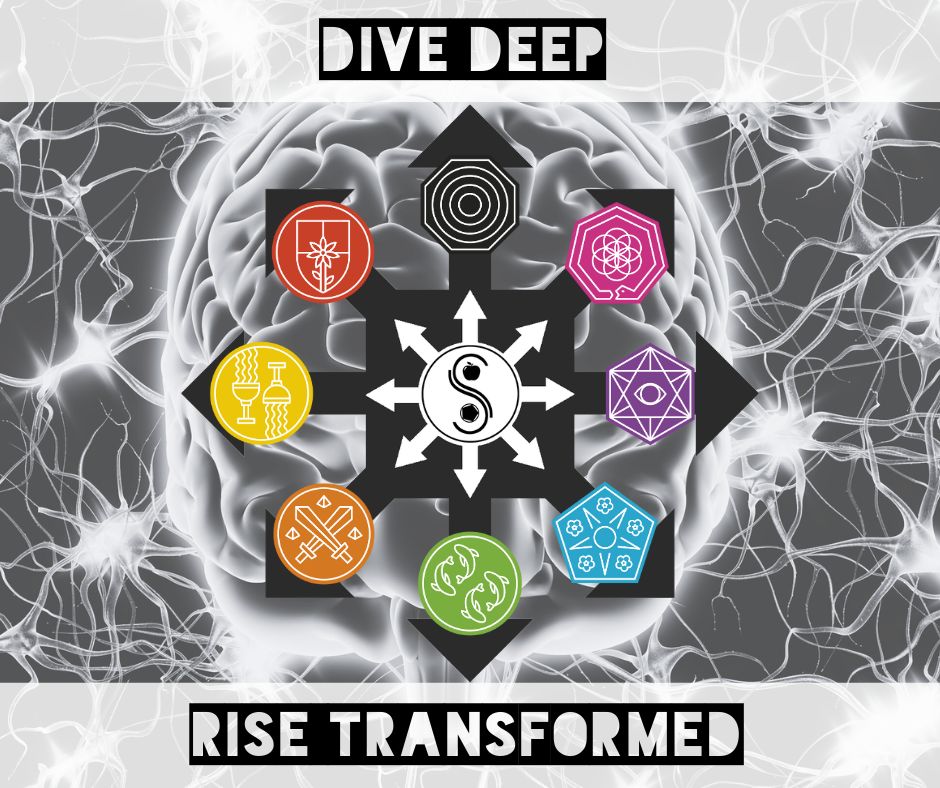 You are questing for deeper Self-Knowledge or looking to reshape your Reality Tunnel? Let me take you on board a psychonautic online group expedition into the depths of yourself.

A holistic Nervous System exploration and a deep dive into Ritual Research experimenting Chaos Magick style to Rise transformed.

Not ready to join a crew of Chaos Monks and Consciousness Pirate,but do you want to deep your toes into that stuff on your own pace?

Join my brand new online course portal to embark on a life-changing adventure with the Balanced Psychonautics Quest – your very own journey of consciousness exploration, brain change, and the multicolored dimensions of Magick.

Take the Base Camp intro course for free you can watch and share also on YouTube.
How can my system serve yours?
We live in times of accelerated change and rising uncertainty.
This shifting territory can feel increasingly challenging to navigate as the current civilization configuration collapses under the weight of resource depletion, economic recession, climate change, increasing conflict, and greater systemic collapse.
As the human race, we face the choice of rapid evolution or extinction as the entropy of collapsing systems increases.

States of Chaos open us up to the opportunity of radical systemic change and increase the possibility of shifting into higher states of functioning.
I think this applies also to your Central Nervous System.

Whatever Chaos the wacky card dealers at the Game of Life are throwing at you that gets you out of balance, struggling, or suffering, I can support you to get back on your board, get into a new balance of order and disorder in your Central Nervous System and get you surfing those waves of Chaos to continue rocking your world.
Do you experience Chaos in your life?

Do you feel overwhelmed with navigating uncertainty or disorder?
You experienced some shock or a life-altering event, your world does not make sense anymore and you feel confused about how to continue.

Do you experience intense emotional roller-coaster rides?
You know that you need to find a new lightness and balance and start walking new paths or creating your own?

I will lovingly assist you with:
understanding and regulating your nervous system,
holding space for you to face and feel the Chaos of your emotions,
calming your thoughts and finding new order in your thinking and sense-making,
Take empowered decisions and craft your own authentic path.
You have visionary ideas but cannot make them happen?

You have been dreaming up projects that will aid the regenerative renaissance but you struggle with managing the possibilities?
You cannot materialize your ideas because of the chaos in your brain or chaotic life circumstances?
You know that now is the time to take decisive action and that you need support to achieve your goals and dreams?

I can support you to:
ground your vision and embody the change you want to seed in the world,
create order in your thoughts,
map out your project,
unpack your resistance to take empowered action
and encourage you to lead the way to a solar-punk future.
You are an explorer of consciousness or a Psychonaut?

You have been chasing peak experience after peak experience exploring the limits of consciousness but you feel unbalanced or at the brink of losing your mind?
You have been doing tons of self experience workshops and ecstatic spaces and can't satisfy that itch?
You had an intense or challenging trip and you feel confused?
An experience of altered states has shattered your world and you feel like falling into an existential crisis or can't find your way out of Chapel Perilous?
If you know you need to do the deeper personal work of integration to compost all those experiences and get the gold out of all that expanding so you can actualize your potential…

I offer you space and companionship to:
go deeper into Self-inquiry,
illuminate and embrace shadow content
understand and shift emotional programming
Integrate your experiences into new maps
Find the right paradigm shift
Upgrade your thoughtware, meaning- and sense-making
create a new order in your system and craft a new path.
You are stuck in the inner structure of yourself or the outer structures of your life?
Do you feel disconnected from yourself?
Do you feel stuck in the roles you are playing?
You can't find meaning or purpose and you feel dissatisfied all the time?
and are looking to create change for yourself to feel more alive, creative, and authentic?


I can serve as a catalyst for change and a companion for your process of transformation by:
challenging your thinking
Exploring your values and convictions
exploring perspectives and possibilities
creating new narratives and upgrading your character sheet
encouraging you to take bold action to reprogram your patterns
nudging you to tap into your magick
The map is not the territory.
The 8 Circuits of Consciousness Model as a map informs the work I do to help you navigate the shifting territory or your process of transformation and get you surfing the waves of Chaos.
Find out more about me and how the state of my system can be of service to you. If you want to dive deeper into the map and the paradigms I play with, check out my chaosophy section or my online study portal. To read my newest musings check out my blog in the Vortex.

If you want to get to know me in person, come to one of my events or jump on a call with me if you are curious to test our chemistry for working together.


I align my work with the core values of Liberation, Love, Playfulness, Balance, and Rapid Evolution.
I choose to believe, that as a species we need to rapidly evolve to bring forth regenerative ways to relate to each other, the land, and our world and take up stewardship of this Mothership Earth to not transform this beautiful playground Terra into a wasteland under technocratic control. I choose to be in service of rapid evolution.