Embodied Ritual Explorations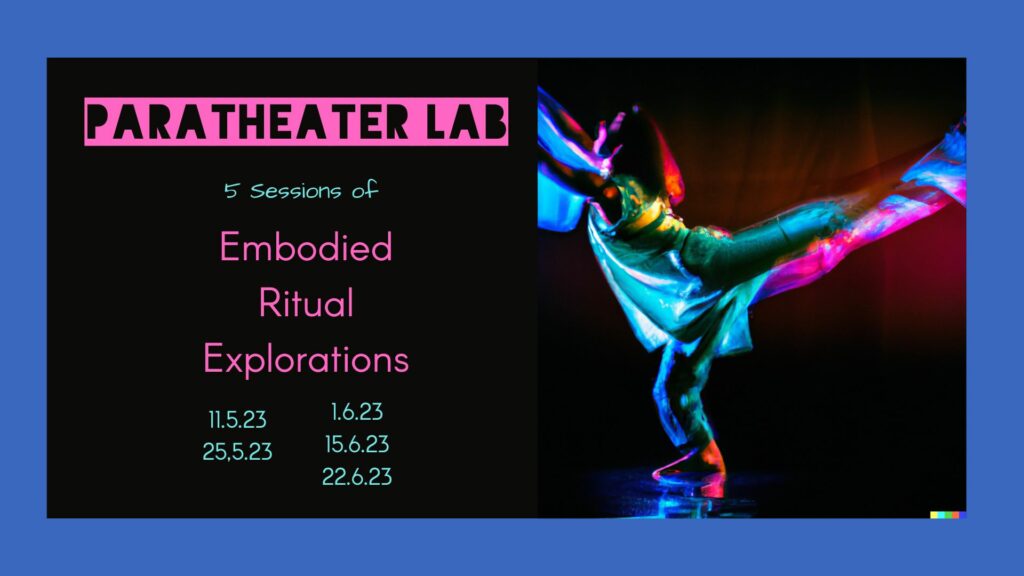 2023-05-11
@
20:00
–
2023-06-29
@
23:00
CEST
Embark on a Transformative Journey: The 5 Sessions ParaTheater Lab
Welcome to the 5 Sessions ParaTheater Lab, a powerful and immersive experience inspired by Antero Alli's visionary work. Join a select group of unconventional humans for an extraordinary exploration of self-discovery, personal growth, and creative expression.
This one-of-a-kind experience is designed for you to delve into the depths of your unconscious and reveal the unique wiring of your nervous system through "Embodied Ritual Explorations."
We will be experimenting with a ritual research practice proposed by ritualist Antero Alli for one evening.
This workshop series is designed to help you connect with your body, and explore nervous system and unconscious mind through a unique combination of theater techniques and meditations in a ritual setting.
We will start by deeply connecting to our bodies through a warm-up routine, so please wear comfortable and sporty clothes. Then, we will enter an a-social space where each of us can dive deep into our own embodied revelation process.
This work is not about socializing or performing or finding your next fling, but about exploring and deeply experiencing ourselves in an embodied non-judgmental and supportive environment.
Antero Alli's ParaTheater technology is based on the idea that the body is the gateway to the unconscious mind. By engaging in ritual practices that involve movement, sound, and visualization, we can access and transform our deepest fears, desires, and beliefs and gain insights into the unique configuration of our nervous system and psyche.
ParaTheater is not a performance practice, but a process of personal transformation that can help us heal, grow, and awaken to our true selves.

We will have a Session on May 11th to test the waters before a commitment is made for 5 follow up sessions to dive deeper.
No previous experience in theater or ritual is necessary. Come with an open mind and a willingness to explore, and leave with a renewed sense of vitality, clarity, and purpose.

Have protein rich food about 2 hours before the workshop and bring a bottle of water for hydration.
WHO IS THIS FOR?
Courageous Curios Cats
Psychonauts willing to explore without substances
Chaos-loving humans wishing to dip their toes in magick
Witches, Wizards, and Magickians who want to play in groups
Ritualists curious to expand upon their ritual paradigms.
.
What Awaits You:
5 intensive, interactive embodied exploration sessions that unlock your creative potential and deepen your connection to your inner self.
An unconventional way to rebalance and realign your inner world by engaging with polarities within your body.
An innovative community of like-minded individuals who share your passion for transformation and personal growth.
An asocial environment that fosters integrity, autonomy, and focus, allowing you to fully engage with the work.
You will experience the power of solo ritual in a group setting.
You will be guided through a series of exercises and meditations that will help you access your inner worlds, express what is alive and wants to surface from the depth of your being and in a spontaneous state of emergence.
The Body: Your Portal to the Unconscious In ParaTheater
The body serves as the gateway to the unconscious, providing a visceral and somatic experience akin to Carl Jung's "active imagination." By engaging with your body and exploring its connection to your mind, you'll gain unprecedented access to your internal landscape, unlocking new dimensions of self-awareness and personal growth.

This revolutionary approach inspired by Antero Alli, is designed to unlock your deepest potential and unleash your innate power.
ParaTheater is a soul-nourishing, immersive journey that transcends the boundaries of conventional self-work. By embracing asocial group rituals and dynamic experimentation, you'll dive deep into your unconscious mind and access the vast internal landscape of emotions, sensations, memories, and passions that define your unique human experience.
This innovative practice enables you to harness the energies within your body empowering you to build psychic resilience against the challenges of modern life.
As you delve into the 5-Phase Warm-Up Cycle to prepare your body to connect with ritual sources, you'll uncover new depths of self-awareness, creativity, and empowerment, while connecting with an innovative community of explorers.
In ParaTheater, the focus is on cultivating direct experience or gnosis, rather than adhering to dogma or belief systems. By engaging with your own spiritual and visceral resonances, you'll develop a profound sense of self-trust, enabling you to navigate life's challenges with confidence and grace.
Inspired by the visionary work of theatre director Jerzy Grotowski, ParaTheater seeks to create a shared space for miraculous interactions and transformative encounters, where participants can express themselves authentically through movement, sound, and emotion. This process allows you to forge deep connections with others through resonance, transcending the limitations of conventional communication and the attachment to roles.

Curious?
Embark on a journey of self-discovery and metamorphosis with ParaTheater, unleash your inner magick, and unlock the door to a new world of creativity, personal growth, and empowerment.

By participating in the 5 Sessions ParaTheater Lab, you'll:
Develop individual talents and skills for increased physical and vocal expression.
Discover new aspects of yourself in the interplay with different sources.
Deepen your understanding of the connection between your body and your unconscious mind.
Access the hidden depths of your inner and outer lives, fostering personal growth and self-discovery.


Are You Ready to Dive In?
Spaces are limited, and we're seeking only the most courageous and open-minded individuals to join us in this transformative exploration with a strong commitment to 5 sessions. If you're ready to take the plunge and unlock your untapped potential, secure your spot today in the 5 Sessions ParaTheater Lab.
Don't miss this opportunity to journey through the depths of your inner self and emerge transformed.

If you want a test the depth of this work, before committing, join us on may 11th for a taster session.


The 5 Sessions will take place on:
May 11th – Test the Waters Session
May 25th
June 1st
June 15th
June 22nd
June 25th

Price


Monk: (Navigating tight money flow) – 125 Euros
Master: (On top of my financial flow) – 155 Euros
Magickian: (Creating abundant money flow) – 230 Euros

All prices include the VAT tribute to the German Authorities.

Taster Session May 11th: 23 Euros

Payments can be handled by Invoicing to avoid Paypal once you have claimed your spot by writing an email to: mariana(at)chaosurfing.rocks or:
Pricing: €23,00 – €230,00