March 16
@
18:30
–
21:30
CET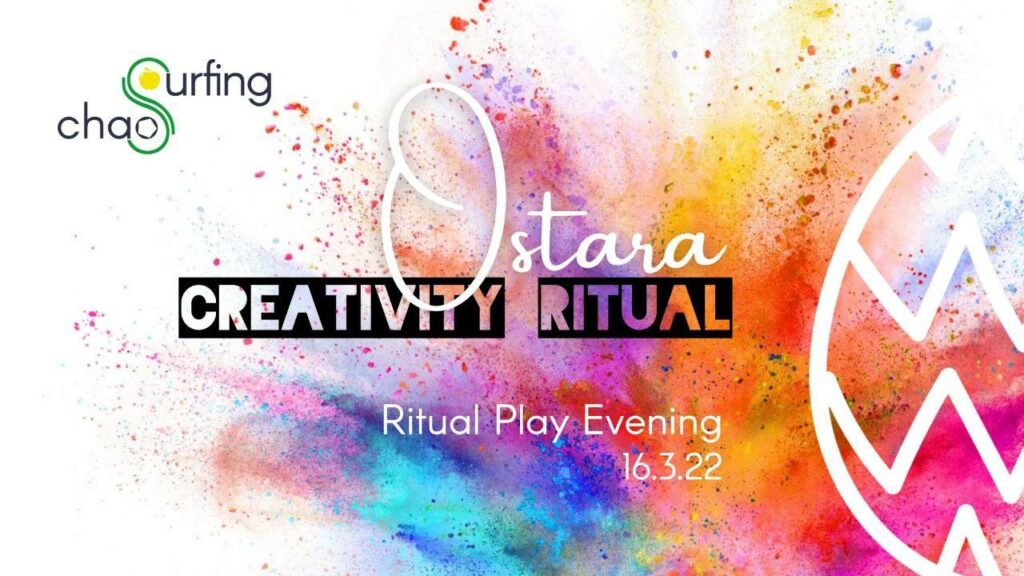 This evening of Ritual Play offers an introduction into a Chaos Magickal approach to ritual workings. For me rituals serve as a creative and playful tool for spell casting and do not need to be taken as serious sanctimony.
Creating a ritual acts as a means to enter an embodied and alternate state of consciousness that allows the participants to land the sentence of intent deep into their own system for the magick to unfold.
For this evening the intent will be to re-awaken our creative juices after this long pandemic winter. We will be connecting to the energy of spring by invoking the archetypal forces of creation, rebirth and illumination represented by the Goddess Ostara or Eostre.
Neo-Pagan witchy communities celebrate Ostara at the Spring Equinox festival. They associate this festival with the planting of seeds, the renewal of energy, both physical and spiritual to foster personal growth and the capacity to create what we want to see(d) in the world.
We will be calling on the forces of spring and creation a couple of days earlier, because – as chaos magickians – we can.
Rather than trying to recover and maintain a tradition that links back to the past (and former glories), Chaos Magick is an approach that enables the individual to use anything that s/he thinks is suitable as a temporary belief or symbol system. What matters is the results you get, not the "authenticity" of the system used. So Chaos Magick then, is not a system – it utilizes systems and encourages adherents to devise their own, giving magic a truly Postmodernist flavor.

Phil Hine
Flow of the Evening
18:30 Arrival, check in and placing your gifts on the altar
18:45 Chaos Magick Rituals 101
19:15 Embodiment practice
19:45 Introduction to the ritual flow
20:00 Conscious Trance Meditation
20:15 Ostara Creativity Ritual
21:00 Integration circle
21:30 End and clear out
What will you get out of this?
A basic understanding of how to play with the technology of ritual in a chaos magick style to create change in yourself and around you…
AND…
An influx of juicy creative energy to kickstart you into spring so you can play and create, grow and thrive this year amidst all the chaos happening in the world.
What to bring:
2-3 boiled painted eggs, spring flowers as an offering for the altar and optionally any object that represents polarity to you, that you wish to charge with this energy.
What to wear:
Comfy colorful clothes in which you can move freely.
About the Facilitator:
I am an agnostic and eristic practicing Chaos Magickian and a Transformational Coach offering my space for psychonauts to do integration work, for Solar Punk Visionaries to ground and embody the change they want to see in the world and for chaotic edge-dwellers to help them find balance to surf the waves of chaos.
I approach my work with lots of playfulness, without dogmas and I create warm hearted non-judgmental space for humans to explore different dimensions of consciousness.
I have a background in comparative religion and ritual research, as well as in politics and lobbyism for the liberation of cannabis. As a coach I trained with Animas Center for Coaching.
Pricing: €23,00 – €42,00
Depending on your financial flow cappacity