April 4
@
18:30
–
21:30
CEST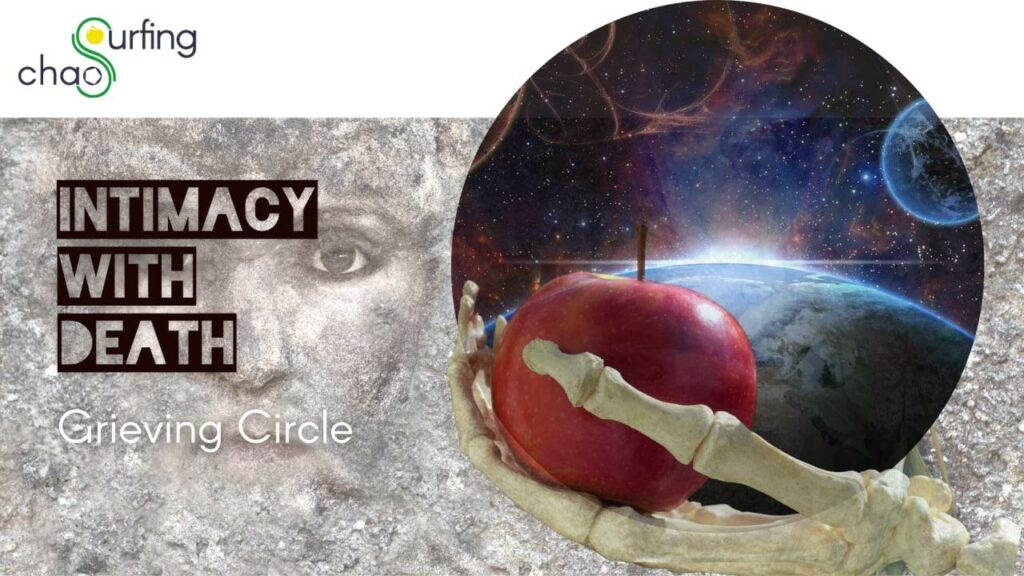 Pricing: Free
This is an offering from our heart. We welcome donations to cover the cost of the space.
– Come and share your grief in the community. –
When we experience deep grief, we need to be seen in our pain.
We need to be held, and we need our experience to be valid.
Each of us moves at their own time through the process of grieving and returning to the vibrancy of life. But we can move through it quicker, when we have a community to witness us in our pain, to share the burden of grief and to give us the space to feel all that we need to feel while having someone to hold us if we fear we will fall apart.
From the deep core of our hearts we will offer space for grief and intimacy with death.
In this grieving circle, each of us will get to share the heaviness of their sorrow and be seen and held in it, to compost and transmute this pain.
The Death Meditation will be offered to bring into awareness the process of dying – of meeting death before we die – to help us cope with our own mortality.
You can participate in both parts or just the circle of grief. During the break we will have a chance to retire from the space if going into a death meditation does not feel aligned with where you are.
Flow for the evening:
18:15 Doors open
18:30 Opening and arriving
19:00 Circle of Grief
20:00 Break
20:15 Banishing and Death Meditation
21:00 Integration Circle
21:30 End and Out
What to bring:
About the Facilitators


Mariana has always felt close to death and in touch with the grief in her heart. She focused her studies in Comparative Religion and her Master Thesis on the cultures of Death and the imaginations on different paths of afterlife. 
A journal to write down anything you might want to process this way and a stone to give your grief into the water.

She grew up in Mexican culture, where death has more presence in everyday life, where people celebrate life and death every year in a colorful festival full of joy to connect to the ancestors and flirt with death in satirical poems.
She explores intimacy with Death in her Chaos magickal practice in the polarity of Thanatos and Eros.
As a transformational coach she offers space for integration to psychonauts, for solar punks to ground and embody their visions and for chaotic edge-dwellers to find the balance to surf the waves of chaos.
From the tenderness of her Cacao Mama Heart she also holds space for those in the hermit's journey willing to go down into the darkness to integrate parts that hurt and want to be brought to the light of awareness.
Check out her offerings @https://chaosurfing.rocks or join her telegram channel to not miss any of them @t.me/chaosurfing
Anna Schmidtbauer