2023-03-11
@
14:30
–
21:30
CET
Ahoy fellow psychonauts and curious cats!
Are you ready for a deep dive into the unchartered territory of your mind?
In the Ritual Playground workshop, we'll take you on a playful and explorative adventure as we map out the 8 Circuits of Consciousness and explore the realms of the subconscious using the technology of ritual.
The 8 Circuits of Consciousness Model was created by Dr. Timothy Leary amidst the counterculture movement of the 70s. Despite Leary's theory being dismissed by serious academia during the conservative backlash in the Nixon era, it has survived on the fringes amongst occultists and free-thinking rebels.
It maps the human nervous system and functions as a developmental model, showing pathways for personal and transpersonal growth and evolution.

I believe it still holds tremendous value for the meta-modern psychonaut, aware that the map is not the territory and that developmental models are fun to play with but do not hold the absolute truth.

Antero Alli has spent the last 40 years researching consciousness through the lens of this model with an embodied ritual technique he calls ParaTheater, which allows access to the subconscious through bodywork and intuitive body expression.

I will introduce you to the ParaTheater Ritual technique of Antero Alli and the playful yet powerful approach to creating your own style of rituals in the meta-paradigm of Chaos Magick


Chaos Magick

To me, this is a non-dogmatic meta-paradigm of consciousness exploration, a form of psychonautics.
The creative and unconventional practice aims at accelerating spiritual evolution and personal development by deconditioning and hacking your nervous system using your will, intention, energy, and imagination as well as rituals and symbols as tools to alter your experience of reality and increase your possibilities.
Some principles shared by most chaos magicians include shifting paradigms and using belief as a tool, accessing altered states with different techniques to anchor information in your subconscious, and an emphasis on direct experience, making you your own spiritual authority.

Do not believe what is written, experiment for yourself!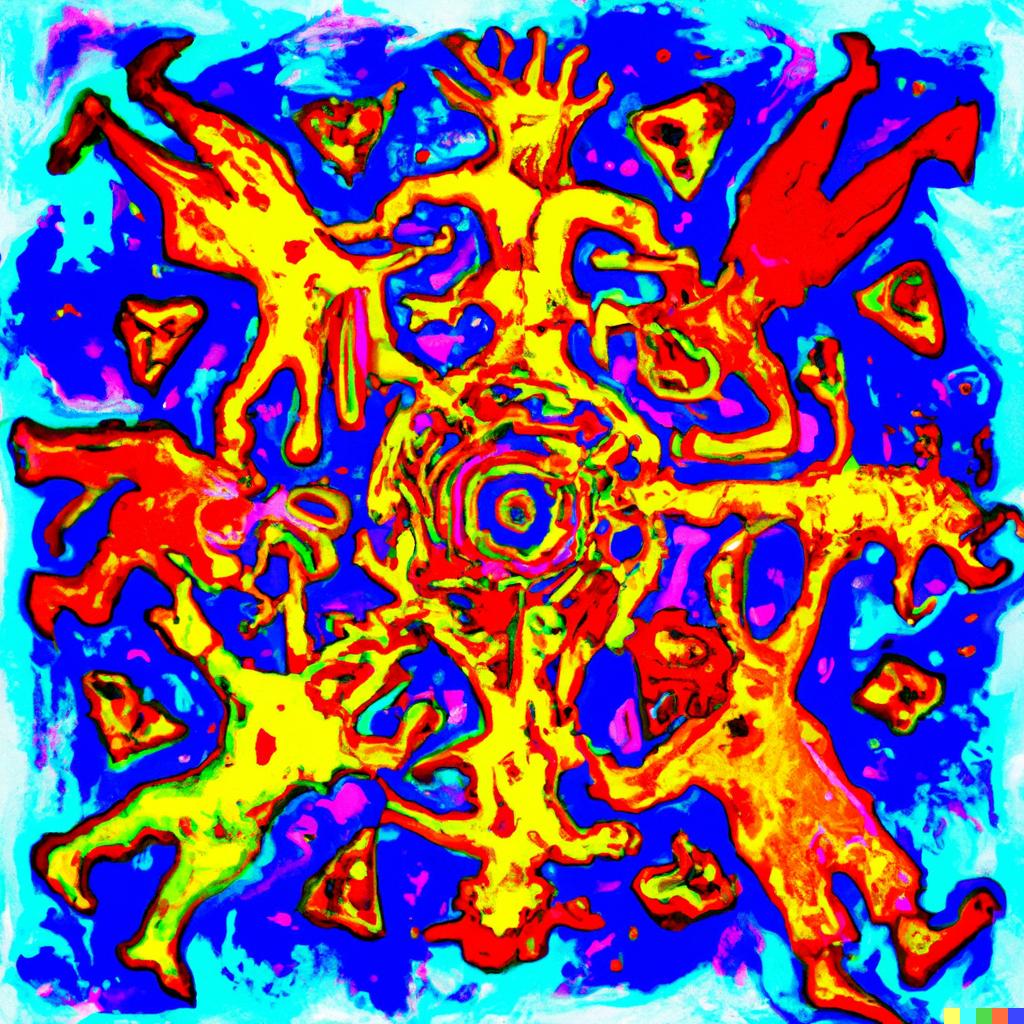 The flow you can expect
At the beginning of this workshop, I will introduce you to this map and how I find it useful as a model for the practice of Chaos Magick. Though you can use any map or paradigm that floats your boat, to practice this rather unconventional path of consciousness evolution.

During the workshop, we'll engage in a fun and creative exploration of different circuits described by this map, with a wild mix of ParaTheater Rituals, Games, and Chaos Magick Rituals. This is not your average self-help workshop! Together, we'll create a powerful dynamic for you to tap into your inner magickian and harness the power of Chaos with DIY rituals to create change in your world.
Whether you're a seasoned psychonaut or a curious cat, this workshop will give you some tools to go about the exploration of your inner realms and the reprogramming of your nervous system with more intentionality.
So, if you're ready to take your consciousness explorations to the next level and unlock your inner power, come join us in the Ritual Playground!

How to prepare:
Have a light but protein-rich meal before you come.
Wear clothing you feel comfortable in for doing physical exercise. We will be breaking a sweat!
Bring a second outfit, that makes you feel more magical.
Bring a water bottle to keep hydrated and some healthy snacks to share with the group.
Craft a powerful intention for a change you want to experience in your world.
Come with a playful and curious attitude.
Logistics
Doors open at 14:00 and Close at 14:30 when we shall begin.
Entry at a later point is not possible and I ask you to commit to staying for the whole ride!
The ride ends at 20:30 and we need to evacuate the location by 21:00

We meet at the Main Floor @ Life Artists Creators Hub – Mila Str. 4


PRICING:

MONK (navigating tight money flow): 42 Euros
MASTER (on top of my finance flow): 55 Euros
MAGICKIAN (I create Abundant money flow): 77



About the Facilitator

Mariana Pinzón is a transformational coach and Chaos Magickian with a peculiar approach to spirituality. Her mission is to help unconventional humans embrace states of chaos and confusion as opportunities for personal (R)evolution. She takes her clients on deep-dive journeys of self-discovery to empower them to craft their own paths.

She believes in the power of Chaos as a catalyst for evolution and that each crisis allows for a window of opportunity to reprogram our system into a new level of functioning.

She has a background in comparative religion, philosophy, and political science, as well as certified training in transformational coaching with Animas Center for Coaching. She is equipped with a range of tools and techniques that allow her to help her clients identify their own solutions. With her flexible epistemology and ability to engage in paradigm-shifting and crafting beliefs, she can facilitate rapid change.

She combines traditional coaching tools and methods with the playful use of sigils and rituals to anchor the desired change deep within the clients' system. She loves to serve Cacao and work with the Inner Child or engage in shadow exploration.
2023-03-11
@
14:30
–
21:30
CET